From yesterday...
The Evidence/Subject: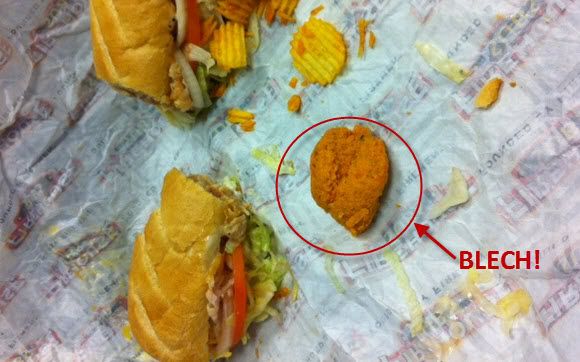 My complaint:
About once per week I venture to Firehouse Subs to pick up a Turkey Bacon Ranch sandwich and a bag of Ruffles Cheddar and Sour Cream chips. It's a delicious lunch at a great value, and its close proximity to work ensures that I can stay productive in addition to satisfying my hunger. Today, however, I was dismayed to find that a large goiter-esque mass of seasoning - think bright orange chicken nugget - took up 20-25% of the normal volume of chips. Aside from its disgusting aesthetic and the revolting thought of its caloric and fat contents, I was shorted a good 5-10 chips from an already small bag. I understand that manufacturing potato chips carries with it certain unavoidable side effects (namely, in this case, a congealed mass of vegetable oil, cheese cultures, onion powder, yeast extract and milk protein concentrate, to name a few), but I would hope that an industrial giant such as Frito Lay would employ tighter quality controls to prevent such a blob from reaching the consumer. And while I will no doubt continue to be a loyal customer in the future - the yummy goodness of Ruffles Cheddar and Sour Cream chips is a difficult addiction to overcome after almost three decades - it may be some time before I can eat your fine product without the stomach-churning memory of the aforementioned gunk nugget. I trust that you will endeavor to prevent future customer dissatisfaction issues such as this. Should you have an interest, I do have photo documentation to share.
Frito lay's response:
Hi Andrew,

Thank you for writing. We're always concerned when a consumer has a negative experience with one of our snacks and apologize for the inconvenience and disappointment this caused. I'm sending coupons to you which should arrive in about a week.

From your description, the material you discovered in your package is most likely an accumulation of the seasoning and oil used in the manufacturing process. On occasion, these ingredients may stick together and form clumps that find their way into the bag. Procedures are in place to prevent these occurrences and we're very sorry it did not happen in this instance.

Quality is a top priority at Frito-Lay. Thanks to the information you provided, we are better able to investigate and take any actions necessary to prevent a recurrence.

Thank you again for taking the time to contact us.

Should you have further questions or comments, please click on this link or copy/paste this link into your browser to send a reply: [REDACTED]Please do not hit reply in your e-mail.

Best regards,

Linda
Frito-Lay Consumer Relations
[REDACTED]
My response to their response:
I would like to thank Linda ([REDACTED]) for a timely, thorough reply to my earlier customer complaint. I appreciate her taking time to address my concern; her response befits what I would expect from a American corporate icon like Frito Lay. Please accept my gratitude for your customer-first ideals. I wish you continued success in the marketplace and I will continue to enjoy your products.
Their response to my response to their response:
Hi Andrew,

Thank you for taking the time to give us such nice feedback! I'll make sure that Linda Levak is recognized for the good service she provided to you.

We consider you a valued consumer and hope you will continue to enjoy snacks from Frito-Lay.

Sincerely,

Linda Phelps
Consumer Relations
[REDACTED]